Glass vase home soft decoration-606 Product
Every glass vase is made of high quality hand-blown glass. We have glass vases in all sorts of colors, sizes, and shapes. We've got apothecary jars, geometric terrarium vases, hurricane vases, and an endless series of cylinder vases of almost every size imaginable. Hualian Glassware Manufacturers - the best choice for custom glass vase
Modern simple and colorful meteorite geometric thickened Glass vase model flower arrangement flower home soft decoration.
Unique and elegant: Designed in retro style, each vase is unique and very attractive. Smooth and bright colors, perfect modern art decoration, add artistic flavor to your interior decoration.
High quality: The beautiful glass vase is made of hand-made high-quality raw materials. This well-made vase is durable and corrosion-resistant. It is a good suit and a highlight in your home.
Exquisite gifts: buy by yourself, or as gifts for Mother's Day, Thanksgiving, anniversaries, weddings or housewarming banquets. Just fill it with gorgeous and colorful flowers or artificial flowers.
Excellent service: We are committed to high-quality products and high-quality services. If you have any product quality problems, please contact Hualian Glass, we will solve the problem for you as soo.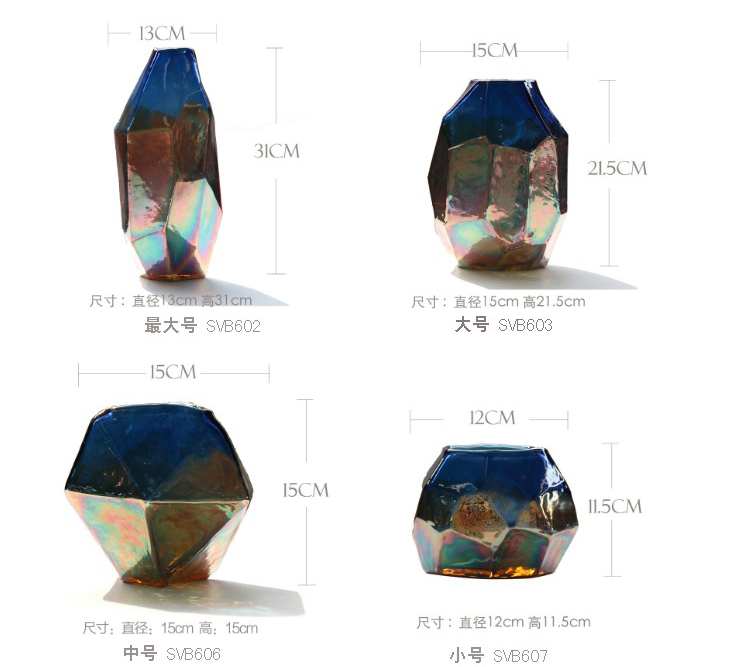 Fast Free Quotes